Armenian genocide denial to be banned in France as senators approve new law
Sarkozy expected to ratify bill, already passed by lower house despite diplomatic row it has sparked with Turkey

Kim Willsher
in Paris
guardian.co.uk
,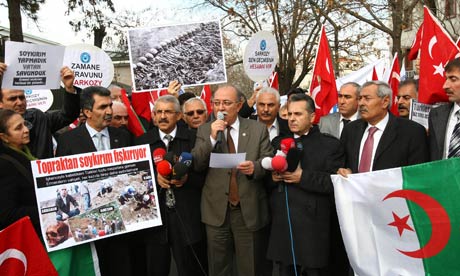 [...]
Supporters of the bill claim 1.5 million Armenians were slaughtered in Turkey under the Ottoman authorities during the first world war in a deliberate policy that constitutes genocide. Many historians agree, but Turkey disputes the term "genocide" and claims many Turks died during fighting in eastern Turkey in 1915 and 1916.
[...]
Those denying or "minimising" the genocide could face a €45,000 fine and a year in jail. France recognised the killing of the Armenians as 'genocide" in 2001, but at the time introduced no legal penalty for denying it.

© 2012 Guardian News and Media Limited or its affiliated companies. All rights reserved.