Two excellent and very interesting posts from
a public defender
by Gideon:
A Cronic problem
...That we do not require of those among the bar who take it upon themselves to protect and defending the liberties of others to be awake during one of the most crucial acts of the criminal trial. Is it too much to ask that lawyers stay awake when their clients are on the stand?...

That this is condoned is only further evidence of the fact that the purpose of the system is no longer to protect individuals, their liberties or their rights, and there is nary a regard for the appearance of justice, but rather the focus is on ensuring that those who go to trial are convicted and remain convicted...
CA: Snitching requires corroboration
In a long overdue move, Gov. Jerry Brown of California just signed into law SB 687, which bans judges and juries from convicting defendants based solely on the uncorroborated testimony of jailhouse informants...

This is a major step forward in the fight against unreliable and wrongful convictions... The Center for Wrongful Convictions at Northwestern Law School found that fully 48% of wrongful convictions were brought about by jailhouse testimony. The Innocence Project states that 15% of DNA exonerations were in cases of convictions that featured snitch testimony.

Surprisingly, California now becomes only the 18th state to enforce this kind of prohibition. Most other states take a half-hearted approach, like Connecticut, providing only for a "special" jury instruction warning juries to consider this kind of testimony skeptically
Two eye-opening posts from
Wait, What
by Jon Pelto:

"Not My Job": UConn Trustees turns to consultants to perform key university tasks

Faced with record budget cuts, the UConn Board of Trustees retained a management consultant for $3.9 million to identify how UConn could be more efficient.

Even more recently we learned that UConn's Trustees have also retained the services of another company authorizing up to $600,000 for assistance with evaluating key programs and employees.

One of the first projects, review UConn AD Jeff Hathaway for $28,400.
Even with layoffs, "shared sacrifice" a joke as political establishment remains untouched…


The number of people working in the governor's office has grown from 20 under Rell to 30 under Malloy and salaries for Malloy's staff is up $661,429, or 41 percent, from before he took office.

In fact, three of his staff make as much or more than the Governor himself who makes $150,000.

Among his highest paid staff are the following;

Chief of Staff $150,000

Chief Advisor $160,000

Press Secretary $98,000

Chief Counsel: $160,000

Legal: $110,000

Legal: $85,000

Leg. Liaison: $85,000

Leg. Liaison: $85,000

Policy Dir: $98,000

Operations Dir: $92,000

DC Office Dir: $110,000

And down the street in the Governor's Office of Policy and Management, Malloy's Secretary of the Office of Policy and Management, Ben Barnes, is getting $187,000 a year. Barnes, with far less experience than his predecessor and a Masters Degree instead of a Juris Doctorate is paid $23,000 more.

Malloy's other political appointees at OPM (the deputy and three assistant secretaries) make a combined $575,000 or $36,000 more than their four predecessors.

From
Only In Bridgeport
by Lennie Grimaldi:

When A Mayor Loses Support Can He Make New Friends?

Four years ago, when Bill Finch narrowly defeated Chris Caruso in a Democratic mayoral primary, the following campaign operatives (as a small example) who either worked for Finch or didn't work against his primary win are now trying to unseat him: Michele Mount, Rina Bakalar, Nancy Hadley, Caryn Kaufman, Mary-Jane Foster, Charlie Coviello, Ed Gomes, Marilyn Moore, Andy Fardy, Pat Fardy, Ann Barney, Joel Gonzalez, Danny Martinez, Bruce Hubler, John Guman...Folks who suited up for Finch four years ago are now working for Team Foster for a variety of reasons...

...Candidate Finch promised to cut taxes $600 (he did not), promised to pump more money into education, lower class size and improve test scores (he did not), promised to reopen Pleasure Beach (he has not), promised to break ground at the Steel Point redevelopment area (he has not yet).
From
CT Blue,
a great essay:
The End is Near
But lets put the climate aside. After all, everyone else does. Even if we could add a refrigeration unit to the planet we'd still be doomed, if not to the everlasting fires of a superheated planet, at least to being a third world nation. Perhaps nothing better illustrates this than the deal presently being negotiated in Washington to solve the Republican manufactured "debt crisis". If it's a crisis at all, it's a hostage crisis, since the Republicans have held the economy hostage, demanding ransom in order to take what has historically been a completely routine housekeeping measure. How have Obama and the Democrats responded to this hostage taking? By proposing to give the Republicans an even better hostage. The deal apparently is that if the Republicans and the Democrats can't agree on a way to destroy the economy by November, the Republicans' preferred plan will automatically become law. Literally no one in Washington is pointing out that the obsession with the deficit is an insane reaction to our current financial woes, except, of course, for lonely voices like Krugman, to whom nobody listens. Nor is anyone pointing out that the war on the poor and elderly further targets the victims of the bankers and rentiers that destroyed our way of life, while leaving those criminals in possession of their booty, along with an additional infusion picked from the pockets of those from whom both the Republicans and Democrats are demanding more "shared sacrifice".

Thus, we march on, with one party more or less openly advocating for the destruction of the middle class and the creation of an oligarchy, while the other makes mildly protesting bleating noises. The corporate media, right wing radio, and their fellow travelers have brainwashed more than enough people in this country to vote against their own interests. Just to make sure, they're also busy making it harder for people who might see through the bullshit to actually vote. Distraction and disinformation, spiced with racism (the ingredient that always seems to add a bit of kick) will assure that the distracted multitudes remain "pawns in their game". Elections will simply be spectacles that give the fixed game a veneer of legitimacy. Real representative democracy cannot emerge from a delusional population....

Time is running out. The young people of this nation who have recently entered the job market are finding that there are no jobs waiting for them, in no small part because their anxious elders must work until they die or enter nursing homes. Meanwhile, the American educational system is being destroyed by a right wing that insists that the government can't do anything right, and proves its proposition by making sure that the system lacks the resources to succeed at anything, including educating our youth, who continue to slip behind the rising generations in Europe and Asia. We no longer make things, and in a few short years, we will no longer be able to design things. Once we are completely useless the money pushers will abandon us for richer pastures, leaving behind the nation they have hollowed out.

We're doomed.
From
Archaeology News Report:
Archaeologists Discover High Priest's Bell?
Archaeologists have discovered a rare gold bell with a small loop at its end. The finding was made during an archaeological excavation in the City of David National Park (near the walls of the Old City of Jerusalem)...
The directors of the excavation... archaeologists Eli Shukron and Professor Ronny Reich of Haifa University, said after the finding, "The bell looked as if it was sewn on the garment worn by a man of high authority in Jerusalem at the end of the Second Temple period.
The high priests who served in the Holy Temple in Jerusalem used to hang golden bells on the edges of their coats. The book of Exodus (Shemot), for example, contains a description of the coat of Aaron the high priest in which it is said that coat contains, "bells of gold."
Ossuary Belonging to a Daughter of the Caiaphas Family of High Priests was Discovered
Three years ago the Israel Antiquities Authority Unit for the Prevention of Antiquities Robbery acquired a decorated ossuary bearing an engraved inscription. The ossuary was discovered by antiquities robbers who plundered an ancient Jewish tomb of the Second Temple period. During the course of the investigation it was determined that the ossuary came from a burial cave in the area of the Valley of 'Elah, in the Judean Shephelah.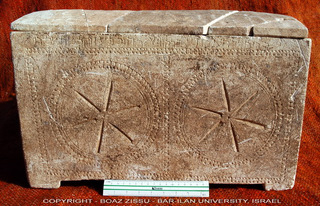 Ossuaries are small stone chests that Jews used for secondary burial of bones; they were quite common in tombs in Israel from the late first century BCE until the beginning of the second century CE. The front of the ossuary that was found is decorated with a stylized floral motif above which is a long Aramaic inscription engraved in Jewish script:
'Miriam Daughter of Yeshua Son of Caiaphas, Priests [of] Ma'aziah from Beth 'Imri'
(or, an alternative reading:
'Miriam Daughter of Yeshua Son of Caiaphas, Priest of Ma'aziah from Beth 'Imri')
In the conclusion of their study Dr. Boaz Zissu and Professor Yuval Goren write, "the prime importance of the inscription lies in the reference to the ancestry of the deceased – Miriam daughter of Yeshua – to the Caiaphas family, indicating the connection to the family of the Ma'aziah course of priests of Beth 'Imri". Caiaphas is the name of Yeshua's father, and Miriam's grandfather. From the wording of the inscription we learn that he belonged to a famous family of priests that was active in the first century CE. One family member, the high priest Yehosef Bar Caiaphas, is especially famous for his involvement in the trial and crucifixion of Jesus.

3,000-year-old altar uncovered at Philistine site suggests cultural links to Jews
A stone altar from the 9th century BCE was found in an archeological dig on Tel Tzafit, a site identified with the biblical Philistine city of Gat. The altar is reminiscent of Jewish altars from the same period and sheds light on the cultural links between the two peoples, who fought each other for centuries.